On 23.05. is the STL GmbH with cimoio at the Learntec 2023 in the exhibition center in Karlsruhe!
STL GmbH has been a guest at Learntec with a stand every year for several years. Learntec calls itself "the digital education fair" and thus describes its claim to cover all aspects:
From school and university education to vocational training, further education, and further training in the corporate sector
technical solutions but also methodical ones
with classic methods and current ones – but also with methods that are still in the research stage
an exchange between providers and potential customers, but also between providers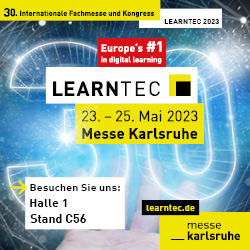 It is not without reason that since 2022, instead of the previous two, three halls have now been made available at the trade fair in Karlsruhe. This way they are able to give space to this broad variety of topics. There is space here for vendor stands. But also stages for lectures, areas for trying things out and, of course, a conference area. There, specific practical approaches from users of the technologies and methods are presented.
After the Corona break, during which Learntec took place digitally, the trade fair takes place again in person since 2022. With 11,000 visitors, it has not yet reached the visitor level of the previous year. But it has nevertheless shown that it has lost none of its relevance – read our follow-up report paragraph on last year's Learntec in last year's review for details.
History of STL GmbH at Learntec
STL GmbH is represented with cimoio at Learntec 2023 for the seventh time. As the company continues to grow, our stand at the show has also grown steadily – as has the visiting team.
We initially had a small stand, which was then only looked after by one person. But we now rent 16 square meters of space. With this size, we can have more technical discussions with interested visitors with three employees.
Last year we also took the opportunity to present a trend topic of the year, "Hybrid Events" on stage. Unfortunately, we didn't manage to do that again this year due to lack of time. But the next Learntec will definitely come!
Participation with a larger stand at Learntec
The change in our brand name certainly brought the greatest impetus to further expand our commitment. After we had renamed our product from ecadiaPro to cimoio in 2021, it was important for us to successfully transfer the trust of our customers from the "old product" into the "new product". An also to introduce the name well into the market. And where better than at Learntec? Here we meet many of our existing customers, where they collect inspiration and find out about new methods. But also many interested parties. These, with their questions about our product, also give us important impulses as to where the market is currently moving.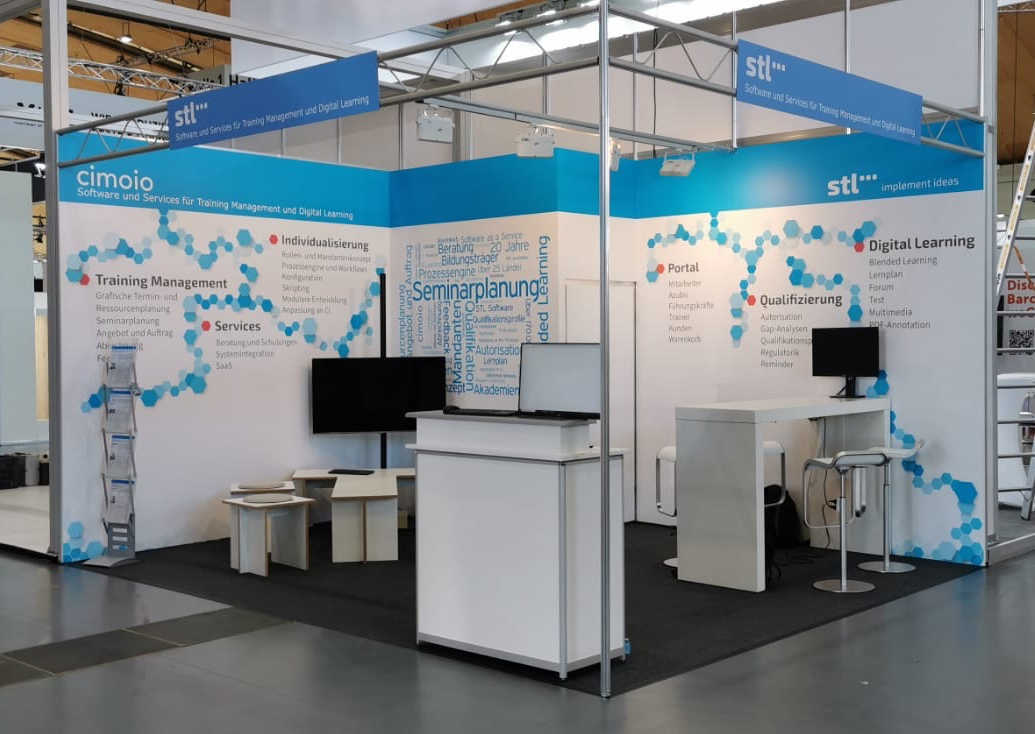 Positioning of STL GmbH with cimoio
STL GmbH with the integrated training and learning management software cimoio has a permanent place at Learntec. Especially in the field of operational knowledge transfer. The strengths of cimoio lie on the one hand in the regulation or the administration and documentation of any combination around compulsory training. And on the other hand in any form of blended learning. cimoio has been on the market – previously under other brand names – for exactly 20 years – the previous software even longer. During this time, we have perfected processes and procedures in the administration of face-to-face training, including the management of rooms, technical resources, and trainer. Manageing these was actually the starting point for the cimoio software.
But we have moved with the times and have all the movements from the introduction of e-learning (sometimes also called "WBTs" for "web-based training"), their combination in blended approaches and (even before Corona) the connection of communication software such as vitero, GoTo-Webinar or MS Teams (or more precisely: use of Microsoft Graph).
cimoio, the integrated TMS and LMS
Overall, we have both the functions of a training management software (TMS) for the administration of all processes in education management, such as:
Design of training products for the portfolio
Organizing scheduled events including resource management
Management of participant registrations for digital products, scheduled events, and blended learning
Documentation of the current status of training measures, in particular to comply with regulations
Communication processes can be manual, semi-automated or fully automated as required
Functions for billing or billing depending on the business model
Extensive and detailed reporting
… as well as the functions of a learning management software (LMS), as an interface to all actors involved, especially the learners, whether internal or external, such as:
Customized portals with views and functions for the defined target group, e.g.:

Learner portal for learners with functions and views focused on current and past learning measures with a library of previously made available learning materials
Trainer portal with calendar to view future training courses, optionally also with a view of the trainer team
Booking portal for managers or customers with a view of the booking history
Employee portal that combines the functions of the learner portal with those of the booking portal so that employees can manage their further training independently

Self-service functions according to requirements, such as:

Education history with past trainings in all formats
Booking functions controlled by roles, target groups and clients

For executives: booking for team members is also possible

Status information on compulsory training
Planning view with future training courses

Access to digital learning media and online sessions via communication software
Industries that use cimoio
STL GmbH is at Learntec 2023 with cimoio – together with our attitude "implement ideas". This means the implementation of ideas from and for our customers, we primarily meet the needs of customer companies that have complex requirements from their learning ecosystem. These are usually not met by common solutions on the market. Our brand essence is to accept and implement these challenges.
Our customer structure primarily revolves around four sectors in which certain challenges appear in different forms.
The four sectors in which we have the most customer companies are aviation (e.g., Lufthansa Technik Logistik Services (LTLS)), training providers (e.g., the JARO Academy of the JARO Institute), manufacturing (e.g., KUKA) or the retail sector, banks, and insurance companies (e.g., the Savings Banks Academy of the Savings Banks Association of Baden-Württemberg or the VGH).
cimoio strengths and branches
Some of the topics already mentioned above, in which cimoio is a leader, are:
Regulation/mandatory training – this topic is relevant for all industries, e.g., for legal training on topics such as data protection or compliance.

In aviation, in addition, various topics in vocational training are firmly regulated by the Federal Aviation Authority, which entails special challenges
In the banking and insurance sector, the topics of "investment" are strongly influenced by the IDD and "financial transactions" in relation to money laundering prevention.
In industry, training on the product is necessary to rule out safety hazards for users
Training providers can be certified in various aspects, which can also regulate requirements for the implementation of the documentation of training courses.

Blended learning – the use of any mixture of different training formats such as online or offline, digital, or face-to-face

The use cases differ slightly from industry to industry as far as the reason for the implementation as blended learning is concerned.
In the implementation, cimoio offers various product templates to efficiently obtain the optimal desired result for each application.

cimoio as an educational marketplace

A growing number of our customer companies not only use self-generated learning content. They supplement their training portfolio with externally procured content.
This content is sometimes available on the platforms of the external suppliers, which we then connect or are imported into cimoio
In general, we can import entire third-party catalogues.
On the other hand, some of our customers have different customer groups who are offered different parts of the overall portfolio.
cimoio enables this via target group or client separation
In this respect, cimoio is a marketplace where self produced and third-party services are provided for internal or external customers. The offer to customers can in turn be segmented by target groups or clients.
Objective of the STL GmbH at the Learntec
We are really looking forward to meeting our existing customers at the fair and talking to them about the inspirations they gathered at the fair.
We are also curious about interested parties and their hopes and expectations regarding our software. To our delight, we received requests for appointments even before the trade fair. Therefore, we are already looking forward to the next challenges.
And finally, we are also interested in seeing what other providers have come up with, what trends are currently being followed in the market and what buzzwords are coming up this year.
Do you have questions?
Want to find out more or reserve a time slot with us? Then use the comment function, send us an inquiry via the contact form or send us an email directly.